Servings: 2
Skill Level: Intermediate
Take your herbal tea game to the next level with our Chamomile Tea Latte. 💛☕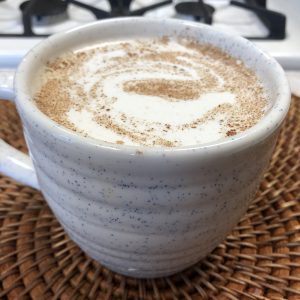 Ingredients:
4 cups of milk
About 10 cloves, crushed
4 tablespoons of loose chamomile tea
2 cinnamon sticks
2 teaspoons of vanilla extract (1 per cup)
Ground cinnamon to sprinkle on top
Instructions
1) In a saucepan, heat milk on medium-low heat with chamomile, cinnamon stick, and cloves. Bring to a gentle boil.
2) Once milk is at a gentle boil, turn heat off and let the milk steep for 5-10 minutes depending on how patient you are.
3) Pour milk into french press or mug with a strainer. Use a strainer to separate the chamomile tea milk by filtering out the chamomile, cloves, and cinnamon stick.
4) If using french press, place plunger on top and pump 5-8 times to froth.
5) Add 1 teaspoon of vanilla extract to each mug and pour frothed milk from french press into mug.
6) Sprinkle ground cinnamon on top and enjoy!