Servings: 4 Shells, 6 servings
Skill Level: Intermediate
This festive recipe is the perfect way to reinvent your holiday leftovers! It is completely versatile. You can use any leftover orange winter vegetables- pumpkin, sweet potato, butternut squash, or our favorite: pumpkin pie filling!
Prep Time: 35 minutes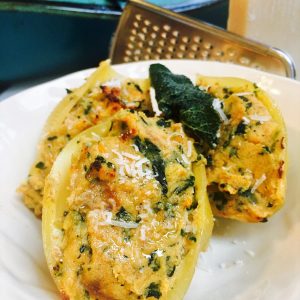 Ingredients:
½ tablespoon olive oil
½ cup + ½ tablespoon butter, divided
1 Vidalia onion, sliced
24 jumbo pasta shells
2 cups leftover pumpkin pie filling, mashed sweet potatoes, pureed pumpkin (or a combination!)
1 ½ cups of part-skim ricotta cheese
½ cup mascarpone cheese
¾ cup grated parmesan cheese, divided
2 garlic cloves, minced
1 cup frozen chopped spinach, thawed
1 egg
1 teaspoon salt
½ teaspoon ground black pepper
¾ tsp dried sage
Juice and zest of ½ lemon
12 fresh sage leaves
Instructions
Preheat the oven to 400⁰F. Heat ½ Tablespoon butter and ½ Tablespoon olive oil in sauté pan over medium heat. Add sliced onions and turn down heat. Cook over medium/low heat for 25-35 minutes or until onions are a deep caramelized brown. Once cooled, finely dice caramelized onions.
Cook the jumbo pasta shells according to package directions. Drain and toss lightly in olive oil or cool on parchment paper to keep shells from sticking together.
In a mixing bowl, combine the pumpkin/sweet potatoes, onions, ricotta cheese, ½ c. Parmesan, garlic, spinach, egg, dried sage, salt and pepper and lemon zest. Stir well by hand or with an electric mixer. Stuff the cooked pasta shells with the pumpkin filling and place them in a lightly greased 9X13-inch baking dish. Bake the shells until they are hot through and begin to lightly brown, about 16-18 minutes.
While the shells bake, make the brown butter sauce by melting the remaining ½ c butter in a small saucepan over medium-low heat until the butter is golden brown, about 10-12 minutes. Add the sage leaves and cook until the leaves crisp. Remove the pan from the heat and take out the sage leaves, reserving them for garnish. Add the lemon juice and remaining ¼ c. Parmesan cheese to the browned butter. Season with salt and pepper to taste.
When the shells are cooked, lightly drizzle the browned butter sauce over the shells. Garnish with reserved sage and additional Parmesan. Enjoy!