10 Delicious Examples to Love Local Food:
The University of New Hampshire's Dietetic Internship Annual Local and Organic Lunch
Our New Hampshire Dietitian Becca Story attended the University of New Hampshire Dietetic Internship Program's Local and Organic Lunch (LOL), an annual local foods celebration planned and prepared for by the program's interns. The LOL provides an opportunity for interns to research, explore, and reflect on the region's local harvest.

The UNH Dietetic Program interns and chefs.
Author and sustainable food advocate Anna Lappé describes local food as a means to getting the freshest and best-tasting food while connecting with and strengthening one's community — and this was true for the annual lunch.
The LOL is a group capstone project that combines creativity, culinary skills, and an understanding of local producers, all wrapped into one delicious meal. In anticipation of the lunch, the program's ten students visited Stuart Farm, a dairy farm in Stratham, NH, and were put through an intensive, week-long culinary course, teaching them the necessary skills in creating a nutritious, farm-to-table meal. "Based on our visit to Stuart farm, whose milk is sold by Cabot, I felt very comfortable in our area, choosing the local, but not organic cheese, because it was a family-owned farm," said intern Melissa Groves. "The cows were treated humanely and the land was well cared for."
The interns also needed to decide on serving sizes for each menu item and figure out their nutritional contents, something that consumers are interested in knowing.
This year's lunch theme was "A Taste of the Wild," which incorporated a combination of local and organic ingredients from producers around the New Hampshire and Seacoast region. The private event fed a select group of invitees, including the program's advisory board, internship mentors and partners, friends and family, and university faculty.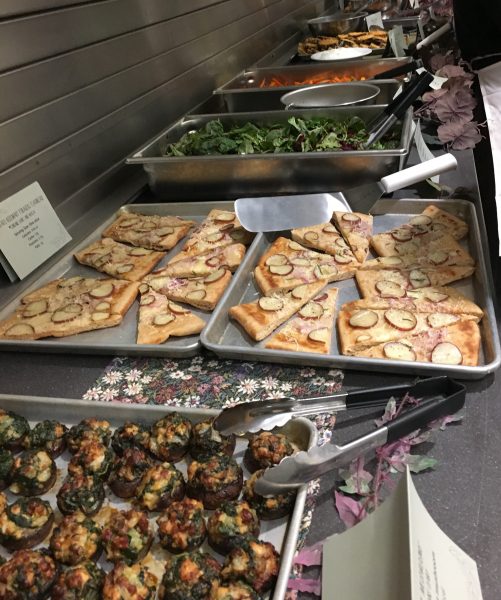 Even though the chefs were students, the LOL menu did not disappoint. The feast included:
Meaty Mushrooms: Mushrooms stuffed with local sausage.
Forager's Flatbread: Potato, Cabot Cheddar Cheese, rosemary, and red onions.
Backwoods Beet and Greens Salad: Drizzled with fresh-from-the-tap local maple syrup used in the vinaigrette dressing.
Carrots, Untamed: Carrots glazed with butter and local maple syrup.
Eggplant "Steaks:" Crispy on the outside, tender on the inside.
Tomato Bruschetta Chutney: An accompaniment for the eggplant.
Feisty Haddock Fish Cakes: Gulf of Maine haddock, lightly seasoned and perfectly portioned.
Creamy Dill Yogurt Sauce:  Cabot Yogurt and fresh dill made a cool match for the fish cakes.
Wild Blueberry Cobbler: Finished with homemade whipped cream.
College Woods Trail Mix Cookies: A soft and sweet finish to the meal.
The interns walked away with valuable skills – skills that will not only help them plan and prepare food as future dietitians, but better understand what's growing around them.
Want the recipes?
Click here for LOL recipes.
Must Be the Milk's dietitians created their own #NHEatLocalMonth recipe book. Find it here.
The LOL was recently recognized by the Accreditation Council for Education and Nutrition and Dietetics as a Noteworthy Practice and will be featured in a poster session this fall at the annual Food Conference and Nutrition Expo in Boston, MA.