Love is in the air and on the dairy farm! This is part-two of a three-part series featuring different love stories and the reasons New England dairy farmers love raising their family on the farm.
"We have always worked so well together, I know what Tim's going to do before he does it!"
Meet Katlyn and Tim Kinsella! The Kinsella's own and operate Birch Mill Farm in Connecticut.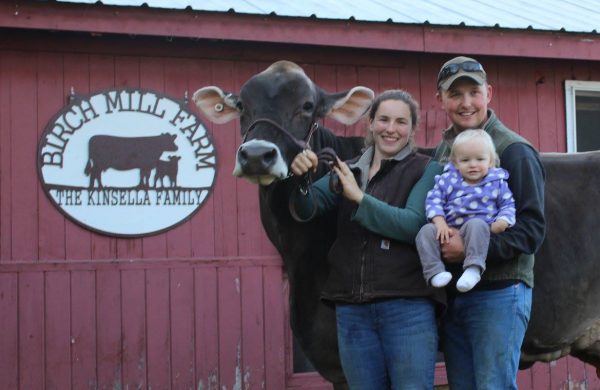 MBTM: How did you and Tim meet?
KK: Tim, my husband and I grew up in 4-H and FFA together. We started dating our junior year of high school, married in the summer of 2012 and welcomed our daughter Emma in the summer of 2015!  We are best friends and each other's "right-hand-man" in everything we do.
MBTM: Favorite part about farming together?
KK: We spent the first few years on the farm, cleaning, fixing, and re-doing the outdated and run down facility. We had a blast, dreaming and creating something workable. There was always a new project, a new decision to make things better, and most importantly, make the barn more comfortable for the cows. Our biggest project was "operation Comfy Cow" when we lengthened the stalls and installed waterbeds! It took two weekends and tons of help from family and friends.
All the ups and downs along the way have made us closer and more driven in our future plans. That's the thing that keeps us solid; we have the same dreams for the future. We work for the future; for our kids to grow up by our side, to grow and develop the herd, farm the land, and to have a successful sustainable farm. If our kids choose to, they will have something to come back home to, to create into something even better!
We just love being together, it sounds corny, but it's true! We have always worked so well together, I know what Tim's going to do before he does it! We know each other's looks and habits that sometimes, I find it hard to work with anyone else.  We have our little ways. When Tim needs to catch my attention, he intermittently pumps the throttle on whatever piece of equipment he's on. Most people don't even realize it, but it catches my attention every time.
We start every day the same, coffee in-hand and head to the barn. Morning milkings are my favorite! It's our time to talk about what the plan is for the day, to laugh and play with our daughter, and just have some family time before the busyness of the day starts.
MBTM: What's it like raising a family on the farm?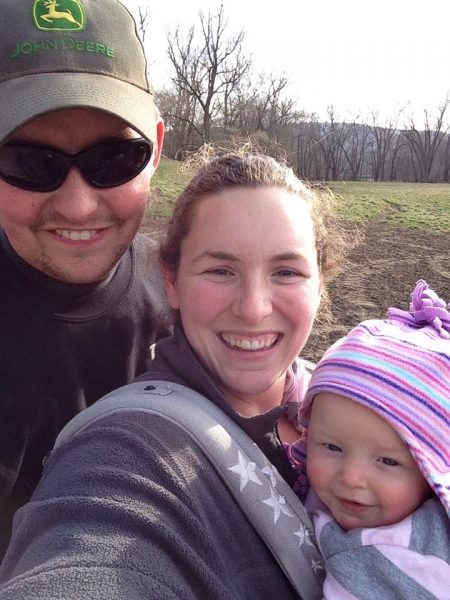 KK: We love raising our daughter on the farm. She goes where we go, from the barn to the field, she's up for anything! She brings more joy and love to what we do than we could have ever imagined. She loves the animals and being in the tractors. Now that she's mobile, watching her pick up on things and learn is so amazing. She loves to help; push in feed, feed the calves, grain the cows. Before we head in for breakfast, she makes one last lap around the barn pointing out poops for Tim to scrape down.
We have an awesome support system of friends and family that enjoy visiting and helping out with everything from crops, to repairing things, and everything in between. Best of all, they share our love of farming.  Every morning, my grandfather comes down to help and hang out with Em. Every Sunday morning, both our parents and Tim's uncle all meet up at the farm to go to breakfast. In the summer and fall, most of the big gatherings happen here on the farm. It's safe to say there's a whole lot of #FarmLove around here!
It's all the little things. The simple moments together, doing what we have always wanted to do, our love for the farm, the land, the animals, our family, and most of all—the love we have for each other is what keeps us grounded and happy.
"It's all about family!"
Meet Doreen and Richard Morris! The Morris family owns and operates Gamblin Farm in New Hampshire.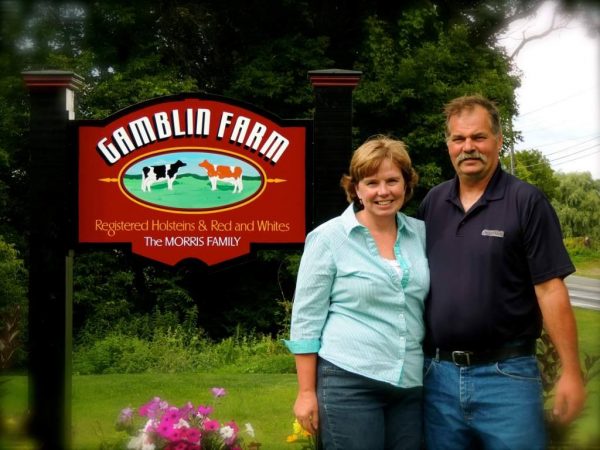 MBTM: That's an interesting farm name. Any specific meaning?
DM: We picked this name when we purchased the farm from Richard's parents in 1987, every decision we make on this farm is a "gamble"—will it work or not. We are the second generation, our daughter Stephanie who works with us is third, and her 1 1/2 year old son, Mason will be fourth!
MBTM: How did you and Richard meet?
DM: We met after my family and dairy moved from Western Massachusetts to Vermont right across the river from where we live now. We were "neighbors" across state lines. I was the new girl in town, we were both just out of school.
MBTM: Favorite part about farming together?
DM: Favorite part is just being together, sharing the day together. Raising a family on the farm is the best of all world's. You don't have to depend on daycare, your children are with you all day; watching and learning how to work hard, be responsible, and have fun doing it!
Rich and I also make decisions together, equally. While we milk, it's our time to talk and discuss the day. Not many couples outside the farming industry can work together like farm couples do!
MBTM: What's it like raising a family on the farm?
DM: The best part of raising a family on the farm is watching my girls (we had three: Justine, Stephanie and Taylor) grow into smart, hardworking, responsible adults who were with me everyday. It's all about family!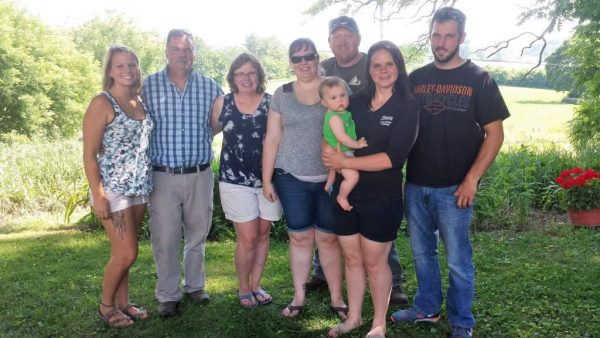 Stay connected with our New England dairy farm families and all other farm families nationwide by following the hashtag #FarmLove on social media.