Dietetic intern Gina is back at the helm with our latest blog post about cooking with yogurt. Read on to get a great back-to-school lunch idea!
Cooking with Yogurt
By Gina Julian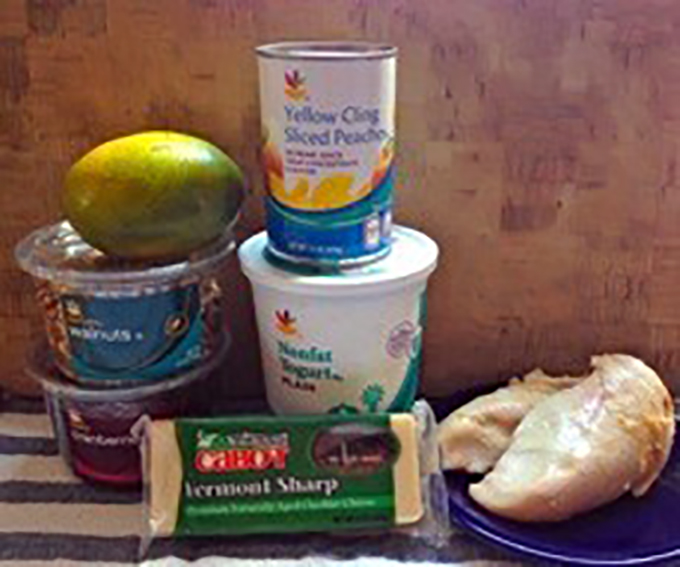 Yogurt is a delicious and familiar breakfast food. Topped with some berries and granola, yogurt makes for the perfect morning meal. However, yogurt is much more versatile than you might think and is a wonderful food to cook with.
While creating a new cookbook to help WIC (Women, Infant, and Children) recipients learn how to utilize yogurt as more than just a breakfast food, I had the opportunity to test one of the new recipes: Fruity Chicken Salad. This particular chicken salad recipe uses yogurt as its dressing, instead of mayonnaise or oil. It is a bit comical that I was tasked with this recipe, as I am a very finicky chicken salad eater. Most of the chicken salads I have tried are loaded with way too much mayo—I prefer just a touch of dressing. But despite my picky palate, I was optimistic about this recipe and agreed to test it.
There are two different ways to make the recipe—one uses mango and curry, while the other uses canned peaches. I tested both and in my opinion the chicken-to-dressing (i.e. yogurt) ratio in this recipe was perfect. There was enough yogurt to coat the salad, but not so much as to overwhelm it. The use of chopped walnuts added a much-needed crunch and dried cranberries gave the salad a tart, but sweet zing.
The recipe also called for cubed pieces of Cheddar cheese, which was a surprising ingredient that I had never seen used in a chicken salad before. I didn't know how the texture of the cheese would fit with the salad, but let me tell you: it was incredible. What a delicious addition! I will definitely be adding Cheddar cheese to any chicken salads I make from now on.
The main ingredient—chicken breast—can be baked or grilled, but for another cheap and quick option, try using the chicken breast from a rotisserie chicken. This is also the perfect recipe to use any leftover cooked chicken you may have sitting in your fridge. Alternately, this recipe would taste great using leftover turkey meat after Thanksgiving instead of chicken. I served the chicken salad over a bed of baby spinach, but it could also be put in a sandwich or wrap.
The moral of this cooking endeavor: don't limit your yogurt consumption to cereal and fruit. Be creative! Though yogurt can have a sweet flavor, the plain kind can work as a salty, savory, tangy addition to your lunches and dinners. And the next time you are looking for a quick and delectable chicken salad recipe to make, look no further: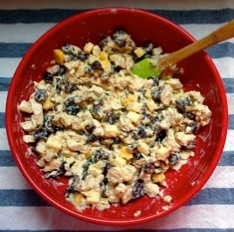 Fruity Chicken Salad Recipe
Ingredients
– 2 ½ cups (½ -inch pieces) cooked skinless, boneless chicken breasts (approx. 2 breasts)
– 3/4 cup plain, nonfat yogurt
– 1 teaspoon curry (optional and tastes best when paired with mango)
– 1/4 cup cubed mango or canned peaches
– 1 cup dried, sweetened cranberries
– 1/4 cup walnuts, coarsely chopped
– 1/3 cup Cheddar cheese, cut into small cubes
Directions
Cut cooked chicken breast into small pieces and set aside. In a medium bowl, blend yogurt and curry (optional) with a whisk and stir in chicken, mango, cranberries, walnuts and Cheddar. Mix well and serve on lettuce leaves if desired.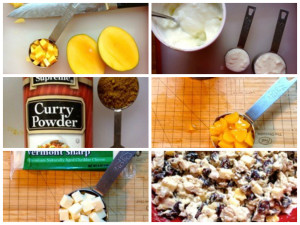 Recipe is modified from the National Dairy Council.