Vermont cheeses have had a great year, and Cabot is among those brands celebrating numerous awards at the American Cheese Society (three cheers for Cabot Vintage Choice Cheddar and its Jalapeno 50% reduced-fat Cheddar!), as well as top showings at the 2012 World Championship Cheese Contest and the 2013 US Championship Cheese Contest.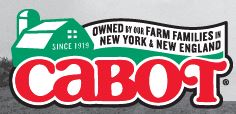 Cabot Creamery Cooperative has been in continuous operation in Vermont since 1919, and produce cheeses, yogurt, sour cream, cottage cheese, and butter. Best known as makers of "The World's Best Cheddar," Cabot is owned by 1,200 dairy farm families located throughout New England and upstate New York. For more info on Cabot Creamery, visit www.cabotcheese.coop.
PS – Visit our Facebook page and share the post from today, and you might receive a gift from Cabot Creamery. A cheese dream come true!