I got a really cool gift recently—real maple syrup. Before moving here to New England, I had never had real maple syrup, and now it is one of my very favorite things. This particular syrup was a gift from one of our dairy farmer board members. Why was this dairy farmer gifting us with real maple syrup? Well, in addition to milking cows, he makes that too!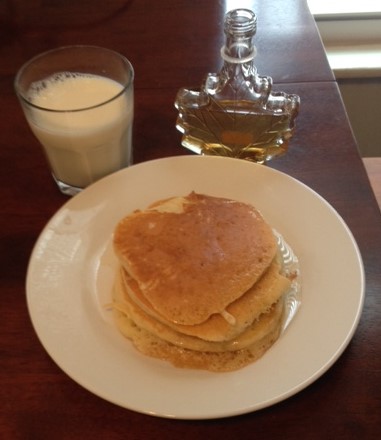 Several dairy farms in New England produce maple as well as milk. Though at first I did not see the connection, upon closer inspection, it is easy to see why. Dairy farmers are an innovative bunch. Thanks to the abundance of maple trees in this part of the country, maple production offers farmers another way to show their talent for careful stewardship of natural resources. To learn more about the link between dairy farming and maple, take a virtual trip to the farm in Hartland, VT.
In the mood for a delicious breakfast but lacking the farmland and expertise to make it truly from scratch? Visit Barstow's Longview Farm in Hadley, Massachusetts. Their farm store is stuffed with locally produced items, and, if you are still in your pajamas when you arrive, you can order something from the breakfast menu thanks to the drive-through option.
Take a moment today to raise a glass of milk as a salute the breakfast farmers who work diligently to produce the delicious breakfast foods we enjoy. Stay tuned for more about maple and some great recipes later this week. And don't forget to share how you enjoy maple and dairy with us in the comments!