Our spotlight this week falls on Grafton Village Cheese, another Vermont cheese award winner. Their winning entry was a unique Cheddar that is aged "naked" (not wrapped in cloth) and quickly develops its own natural rind. As a result, it reaches maturity quickly and boasts a full and complex buttery profile, achieving a delicate mushroomy note after just 60 days.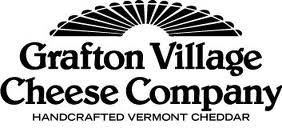 Grafton's Naked Cheddar won a Gold Medal at the 2012 World Cheese Awards and Best in Show at the 2012 "The Big E Cheese Competition."
Explore the wonderful products from Grafton Village Cheese – and when you share our Facebook post about Grafton Village Cheese this week, you will be entered to win samples of this delicious, award winning cheese. Good luck!