Ag grads rock!
It's college commencement time, and our thoughts turn to the University of Vermont and its graduates, who get their diplomas May 19 (here's hoping for gorgeous weather!).
UVM has been a great supporter of New England dairy farmers, through dairy sales promotions in its dining facilities, participation in some of our Must Be The Milk events and in many other ways.
However, we should also give a tip of the hoof to those students who graduate this month with a degree in farming.
Of course, there's no actual degree in farming, per se, but the Department of Animal Sciences does offer majors in Pre-Veterinary/Pre-professional Science, Equine Science, General Animal Science, and Dairy Production.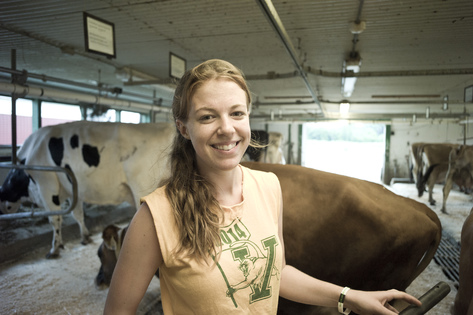 When they're not studying, or in classrooms, labs or barns, animal science majors also spend a lot of time participating in various department clubs.
There is the Alpha Rho Chapter of Alpha Gamma Rho Fraternity, a professional/social organization in which all Brothers share a common interest in Agriculture. Alpha Rho was recently voted by the University community as the Most Outstanding Fraternity.
There's the Dressage Team, a club sport that allows riders to compete at the interscholastic level on the UVM team, and the Equestrian Team, with students skilled in jumping horses over fences and anything else in their way. The Green Mountain Chapter of Alpha Zeta is a co-ed Honorary Society in the College of Agriculture and Life Sciences at UVM, and the Pre-Vet Club is made up of students interested in a career in veterinary medicine.
These are all great groups, but we admit we have a soft-spot for – you guessed it – the Dairy Club. The club actively promotes the dairy cow and dairy products on campus and in the greater Burlington community. Members sponsor fundraisers to support the Dairy Cattle Judging Team and participate in the Northeast Regional Animal and Dairy Science Club competition each February. It also works with CREAM (Cooperative For Real Education in Agricultural Management) in sponsoring the UVM Dairy Cattle Show String and Exhibit and the Green Mountain Dairy Show.
This is an amazing group of young people, and so as commencements commence (no pun intended!), we salute their hard work and commitment to advancing the agriculture and life sciences. These are our next generation of dairy farmers and, so, we congratulate them on their great achievement and wish them well as they embark on their newfound careers.
Best wishes!